Annual Junior Eid Ball 2022
Annual Junior Eid Ball 2022
May 29 3:00pm -7:00pm
Emporium Function Centre
$50
This event has reached its enrolment capacity and is now full.
Unfortunately we won't be able to accept any more enrolments.
We apologies for any inconvenience.
Return to the Alfirdaus events page here.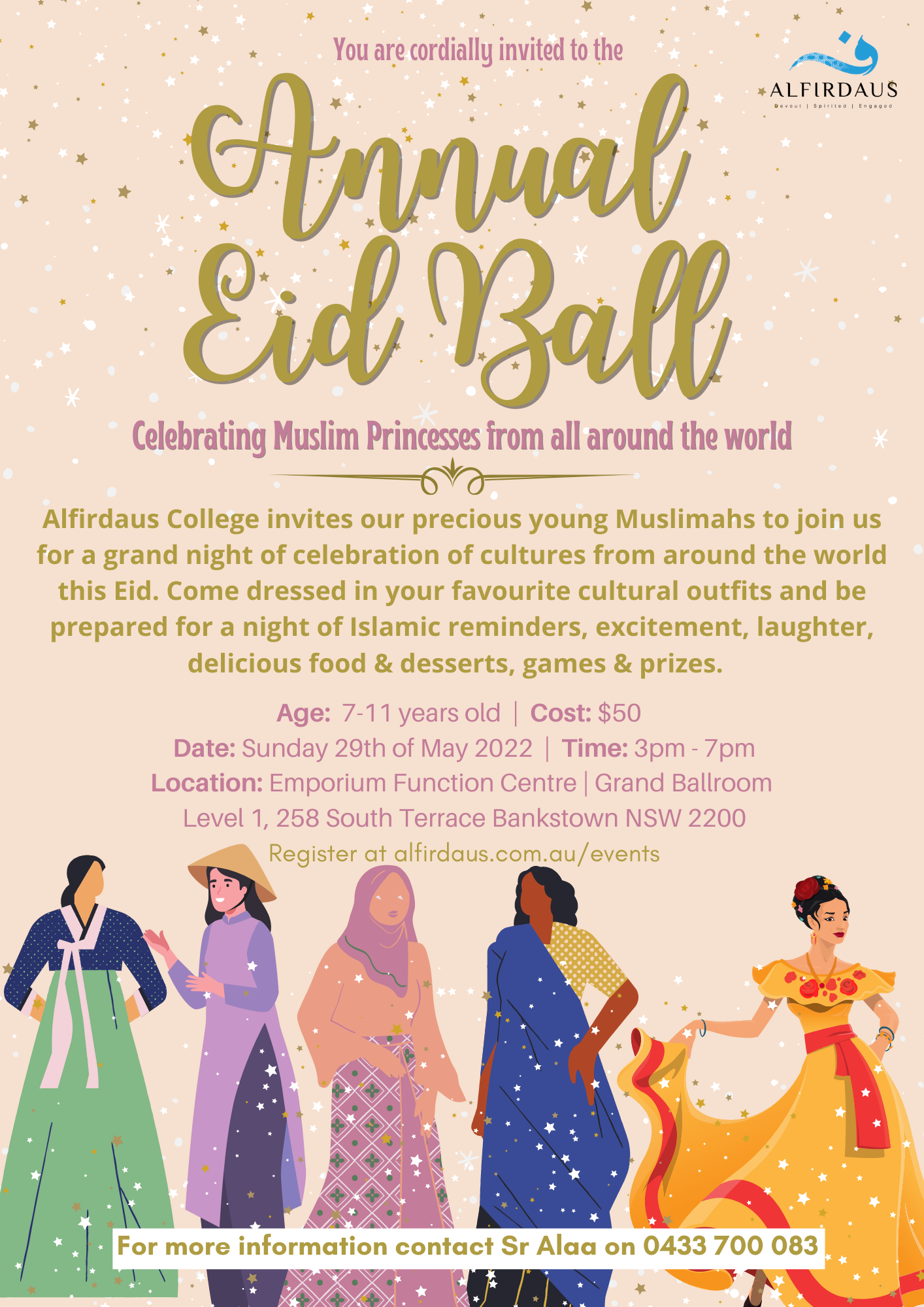 DETAILS
Date:
May 29

3:00pm -7:00pm

Cost:
$50
Event Category:
VENUE
| | |
| --- | --- |
| Venue Name: | Level 1, 258 South Terrace Bankstown NSW 2200 |
| Address: | Emporium Function Centre |
| Ages: | 7-11 years old |
2022 JUNIOR EID BALL
We request the pleasure of our beautiful young sisters in Islam at this years Multicultural Ball as we celebrate Eid Al-Fitr.
Celebrate Eid in a Grand Style in your favourite Traditional Clothing.
🇯🇴🇱🇧🇱🇾🇲🇾🇲🇽🇲🇨🇲🇦🇵🇰🇵🇸🇶🇦🇪🇸🇿🇦🇸🇾🇾🇪🇸🇴🇭🇷🇬🇭🇨🇳🇦🇿🇦🇫🇦🇱🇧🇦🇧🇭🇨🇼🇨🇾🇪🇬🇬🇷🇮🇳🇮🇶🇮🇷🇯🇵🇲🇰🇵🇭🇹🇷🇹🇳🇦🇪🇲🇾
Also learn something new and exciting as we explore the experiences of different cultures in Islam throughout the night.
It is a night not to be missed! See our flyer for further details. We hope to see your daughter at the ball
Date: Sunday 29th May 2022
Time: 3pm to 7pm
Age: Girls, 7-11 year olds
Location: Emporium Function Centre, Grand Ballroom
Price: $50 per child
If you would like to take photos with your daughters prior to the event you are welcomed to between 2-3pm at the venue.
We will be praying Maghreb at the event so please ensure that your daughters bring their prayer clothes if needed.
We ask that parents come ONLY for registration and pick up. Parents are not to attend this event as it is only for our younger princesses from the ages of 8-11 years old.
For more information contact – Sister Alaa on 0433 700 083.