If Only They Knew – The Story Of Prophet Muhammad PBUH
If Only They Knew – The Story Of Prophet Muhammad PBUH
Jan 18 5:00pm -8:00pm
80 Rickard Rd, Bankstown NSW 2200
$10
This event has reached its enrolment capacity and is now full.
Unfortunately we won't be able to accept any more enrolments.
We apologies for any inconvenience.
Return to the Alfirdaus events page here.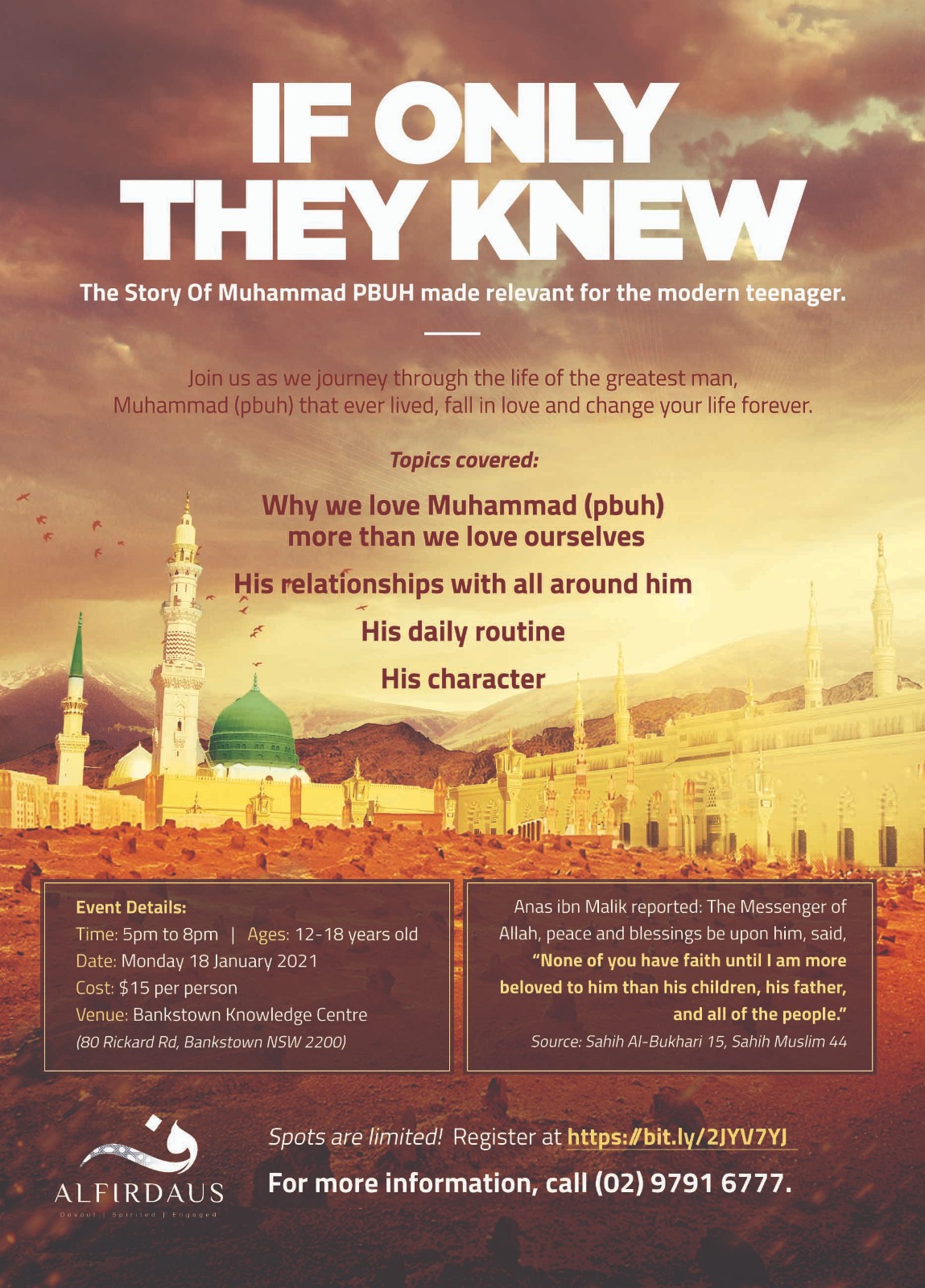 DETAILS
Date:
Jan 18

5:00pm -8:00pm

Cost:
$10
Event Category:
Story Night
VENUE
| | |
| --- | --- |
| Venue Name: | Bankstown Knowledge Centre |
| Address: | 80 Rickard Rd, Bankstown NSW 2200 |
| Ages: | 13+ year old |
The Story Of Muhammad PBUH made relevant for the modern teenager.
Join us as we journey through the life of the greatest man that ever lived, fall in love and change your life forever.
Topics covered:
His relationships with all around him
His daily routine
His character
Hadith:
Anas ibn Malik reported: The Messenger of Allah, peace and blessings be upon him, said, "None of you have faith until I am more beloved to him than his children, his father, and all of the people."
Source: Ṣaḥīḥ al-Bukhārī 15, Ṣaḥīḥ Muslim 44
Time: 5pm to 8pm
Date: January 18 2021
Cost: $10 per person
Venue: Bankstown Knowledge Centre