Sheikh Mohammad Elshinawy's 2023 Australian Tour
Sheikh Mohammad Elshinawy's 2023 Australian Tour
Jul 04 7:00pm -9:00pm
Bryan Brown Theatre, Corner of Rickard and Chapel Roads, 80 Rickard Rd, Bankstown NSW 2200
Free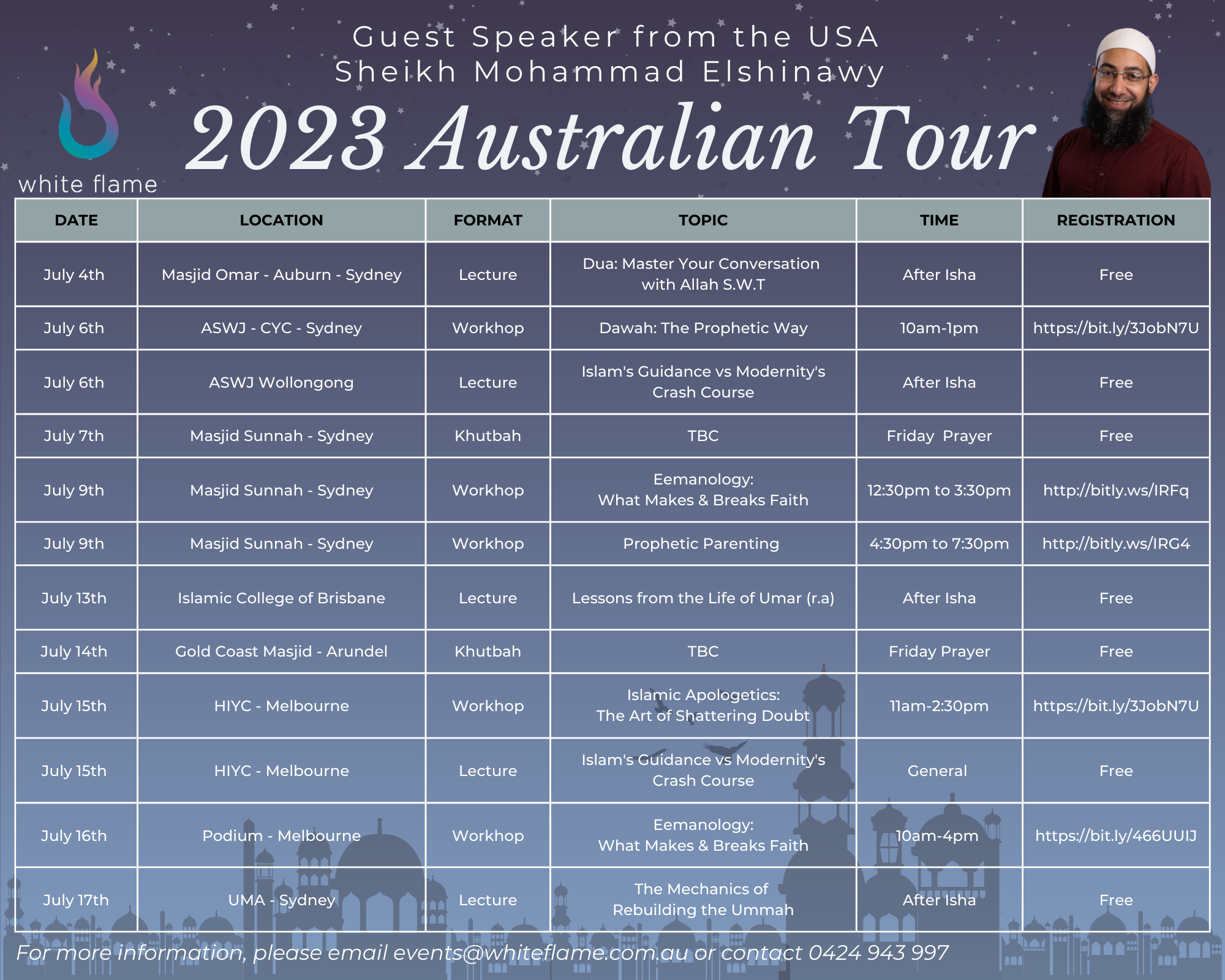 DETAILS
Date:
Jul 04

7:00pm -9:00pm

Cost:
Free
Event Category:
Islamic Event Week
VENUE
| | |
| --- | --- |
| Venue Name: | |
| Address: | Bryan Brown Theatre, Corner of Rickard and Chapel Roads, 80 Rickard Rd, Bankstown NSW 2200 |
| Ages: | |
Sh. Mohammad Elshinawy from the USA will be sharing his knowledge and Dawah experience in Sydney, Brisbane and Melbourne between July 3rd to 17th.
Don't miss out on benefitting from a true person of knowledge who has acquired authentic knowledge and is now passionate about helping Muslims get closer to Allah swt and live their best lives.
See flyer for Australian tour dates and links below for Sydney knowledge centric workshops.
Dawah: The Prophetic Way
Location: ASWJ – CYC (NSW)
Registration: https://bit.ly/3JobN7U
Eemanology: What Makes & Breaks Faith
Location: Masjid Sunnah Lakemba
Registration: http://bitly.ws/IRFq
Prophetic Parenting
Location: Masjid Sunnah Lakemba
Registration: http://bitly.ws/IRG4
Islamic Apologetics: The Art of Shattering Doubt
Location: HIYC – Melbourne
Registration: https://bit.ly/3JobN7U
Eemanology: What Makes & Breaks Faith
Location: Podium – Melbourne
Registration: https://bit.ly/466UUIJn